T-GO continues to unbox a revolution with tea!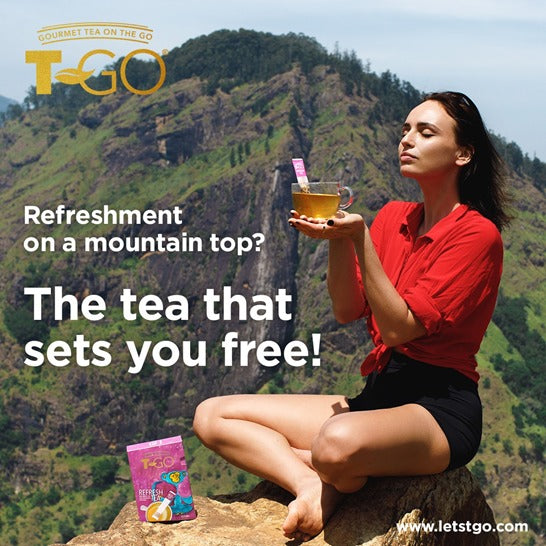 It's May 2021 already! The end of 2020 marks a milestone – a pandemic year, changed lifestyles, introduced a 'new normal' and had everything we weren't ready for. Enough said.
However, the pandemic has made a lasting impact on us all – especially with food and beverage consumption. This continues into 2021, kicking off new trends emerging in tea consumption too! 
T-GO - The new tea norm?
Hey, remember how the new-normal created an unexpected shift to your life? Likewise, T-GO is set to revolutionize the way you drink tea - like never before. Out with the old and in with the new, T-GO gives the ultimate personalized tea experience you've always wanted - anywhere, anytime!
Life is good with tea, even better with T-GO!
The quirky tea range is safe, easy and fun to make – unlike your ordinary tea.Besides, it's the only tea that lets you, Steep – Stir – Sip & Go! 
You may be wondering, 'But how is it possible with just one tea sachet?' Full marks to you! But, here's how. Rip open the T-GO sachet, grip the spoon and stir the tea bag into a cup of hot water. And ta-dah! Your gourmet tea is ready. 
Tea with a difference – Sensation, Comfort and Function!
Big on innovation and a new way of life, T-GO is luxuriant and indulgent, safe and convenient, personalized and fun – all at once. Sip by sip or gulp by gulp, T-GO is the new way to enjoy tea and there's something so 'Ahh' worthy. Is it just us, or does T-GO's signature blends made with pure ingredients simply exude all things good and healthy?
 The new norm with T-GO
Listen up! T-GO is not just fun packaging with a spoon-in-teabag that stirs. It is a real trend-setter to elevate the tea drinking experience with you and your safety in mind.
With 'social distance' being the buzz word, masks and gloves becoming a daily routine and doing a double-take when someone coughs or sneezes, T-GO shields you from all that anxiety.
Unboxing a new journey with tea, T-GO is a joy in your pocket or bag and assures you with the safest and personalized luxury tea experience anytime you want – with just one cup of hot water.
After all, T-GO sets you free!
comments ( 1 )