The Wonder Drink: All About T-GO Camomile Tea!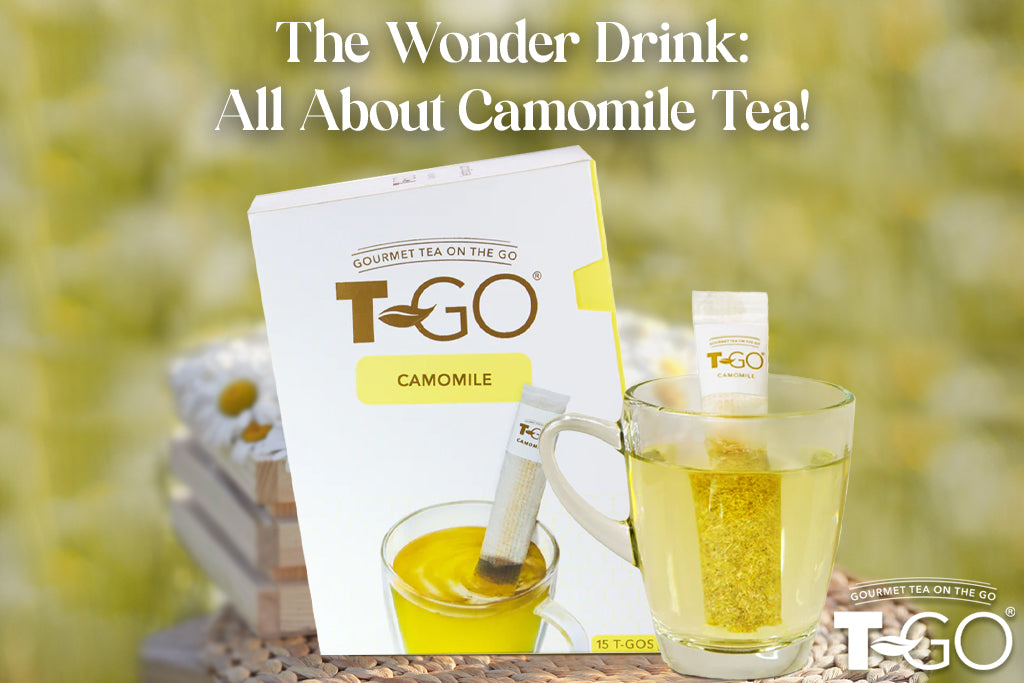 Take a sip of peace and relaxation with T-GO Camomile Tea! This beloved beverage has been enjoyed for centuries, not only for its soothing flavor but also for its many health benefits. In this article, we will explore the many benefits of our T-Go Camomile Tea and why it's a great addition to your daily routine.
Our T-GO Camomile tea is made with premium ingredients, giving you the best possible taste experience while providing you with all the great benefits this amazing tea has to offer. Our Camomile tea is caffeine-free, so you can enjoy a cup before bed and get a good night's sleep without added jitters!
T-GO Camomile Tea is the ultimate elixir for relaxation and protection against external elements. Not only does it contain powerful antioxidants to fight off pesky free radicals, but it also contains anti-inflammatory properties that can reduce inflammation in your body. Camomile has been traditionally used to soothe irritated skin, and it can be applied topically or drunk as tea to reduce inflammation. This T-GO Camomile Tea is also a great choice for those who are pregnant or breastfeeding as it is considered safe to consume during pregnancy and breastfeeding and can help reduce symptoms of morning sickness and promote relaxation. So, if you're feeling a bit under the weather or have some aches and pains that need to be relieved, a cup of T-GO Camomile Tea is just the thing!
Plus, it can even help with digestion and insomnia. Don't worry about counting sheep anymore - all it takes is one cup of delicious camomile tea to help your body relax, improve your moods, and reduce stress levels. So, why not take a break and treat yourself to a cup of T-GO Camomile Tea right now? You deserve it! Let the healing power of chamomile help you forget your troubles and unwind in no time. After all, life is too short not to enjoy the little things!
In conclusion, our T-GO Camomile Tea is a versatile and delicious beverage that offers a wide range of health benefits. Its ability to promote relaxation, improve sleep quality, soothe digestive issues, reduce symptoms of anxiety and stress, and improve skin health, make it a great addition to your daily routine. So start sipping today and experience all the wonderful benefits of T-Go Camomile Tea! With its calming effects, digestive aid, and ability to reduce anxiety and stress levels, there's no doubt that camomile tea is an invaluable addition to your daily routine. Sit back, relax, and enjoy the soothing effects of chamomile with T-GO Camomile Tea!
comments ( 6 )